Service-Learning Librarian is a moderated discussion about service-learning and its connections to libraries, librarians and information literacy.  The blog will chronicle several instruction models that integrate service-learning with information literacy and explore other connections between service-learning and libraries.
About the Moderator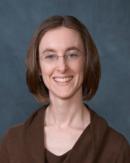 Anne Marie is Assistant Professor of Library Services at University of Northern Iowa (UNI). She holds a B.A. in Communicative Disorders from UNI and an M.A. in Library and Information Science from University of Iowa. She is a leader in research focused on the intersections between academic libraries and community engagement, with an emphasis on innovative information literacy instruction.
Anne Marie first caught the service "bug" in high school (after grumbling about required service hours!), taking part in many service trips. She started Habitat for Humanity campus chapters in her high school and college. As a librarian early in her career at University of Dubuque, she inherited library instruction for service-learning courses and brought that model to UNI.  
She frequently presents and publishes about libraries and service-learning and has consulted on the library's role in community engagement with many institutions. She has served on the planning committees for the Colloquium on Libraries and Service Learning as well as the Midwest Campus Compact Conference. She was a 2016 Emerging Engagement Scholar. At UNI she serves on the Service-learning Institute Planning Committee, Civic Action Planning Team, and Quality Initiative Project Implementation Committee.
About the Founder

Maureen Barry is a librarian at Bowling Green State University. Prior to that she was First Year Experience Librarian at Wright State University.  She earned her MLS at The University of North Carolina at Chapel Hill in May 2005.  She discovered her love for service learning in 2007 when she and a colleague integrated a service learning component into a for-credit information literacy course at Wright State University.  Since then, she has developed her knowledge and experience with service learning collaborations in several capacities.
In her own words:  "It took more than 5 years, but I finally discovered my professional voice – the expertise I can develop and share with other librarians.  In the past two years, I integrated four different service learning models into information literacy instruction.  I researched, presented, and wrote articles about service learning (SL) whenever and where ever someone would let me.  I made a difference in my community.  I developed meaningful relationships with students, faculty and community partners. Although SL is discussed infrequently in our field,  I met (virtually) other librarians interested in service learning who will be asked to contribute to this blog.  And I can't wait to do more!  Consider this blog a place to learn more about service learning concepts, its connections to information literacy and libraries and models for integrating SL into our work."
See contributors page for more information about those that contribute to the blog.
What is service-learning?
The National Service Learning Clearinghouse defines Service Learning (SL) as "a teaching and learning strategy that integrates meaningful community service with instruction and reflection to enrich the learning experience, teach civic responsibility, and strengthen communities"  (http://www.servicelearning.org/what_is_service-learning).
This example from the NSLC offers some clarification between service learning, community service and internships or field experiences:
"What Service-Learning Looks Like If school students collect trash out of an urban streambed, they are providing a valued service to the community as volunteers. If school students collect trash from an urban streambed, analyze their findings to determine the possible sources of pollution, and share the results with residents of the neighborhood, they are engaging in service-learning.
In the service-learning example, in addition to providing an important service to the community, students are learning about water quality and laboratory analysis, developing an understanding of pollution issues, and practicing communications skills. They may also reflect on their personal and career interests in science, the environment, public policy or other related areas. Both the students and the community have been involved in a transformative experience."
Disclaimer:  Views included are authors' own, and do not necessarily represent the views of their employers.