Service-Learning Librarian (https://sllibrarian.uni.edu/) is a discussion hub focused on service-learning and its connections to libraries, librarians, and information literacy. The blog chronicles several instruction models that integrate service-learning with information literacy and explore other connections between community engaged learning and libraries. Librarians, teaching faculty, and community engagement professionals alike will find inspiration for creative pedagogies and partnerships that encourage deep reflection, community connections, and research skills. Guest posts welcome! 
About the Moderator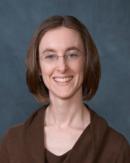 Anne Marie is Associate Professor of Library Services at University of Northern Iowa (UNI). She holds a B.A. in Communicative Disorders from UNI and an M.A. in Library and Information Science from University of Iowa. She is a leader in research focused on the intersections between academic libraries and community engagement, with an emphasis on innovative information literacy instruction. Anne Marie first caught the service "bug" in high school (after grumbling about required service hours!), taking part in many service trips. She started Habitat for Humanity campus chapters in her high school and college. As a librarian early in her career at University of Dubuque, she inherited library instruction for service-learning courses and brought that model to UNI.  
She frequently presents and publishes about libraries and service-learning and has consulted on the library's role in community engagement with many institutions. She has served on the planning committees for the Colloquium on Libraries and Service Learning as well as the Midwest Campus Compact Conference. She was a 2016 Emerging Engagement Scholar. At UNI she is liaison librarian for the Office of Community Engagement and has served on the Service-learning Institute Planning Committee, Civic Action Planning Team, and Quality Initiative Project Implementation Committee. As a new OER librarian, she is interested in educational accessibility and affordability.
About the Editorial Team

Maureen Barry, founder of SLL Blog, is assistant professor, reference and instruction librarian at Bowling Green State University in northwest Ohio. She partners with the departments of History, Social Work, Criminal Justice, and Gerontology, and provides support for the library instruction program in the undergraduate writing curriculum. Maureen's research interests include the intersections between academic libraries, information literacy and civic engagement, particularly service-learning, along with college research readiness and strengths-based approaches to teaching information literacy. Prior to returning to BGSU, her alma mater, Maureen served as First Year Experience/Student Success Librarian at Wright State University in Dayton, OH for nearly 14 years.
Olivia Ivey
Jennifer Nutefall is the Dean of University Libraries at the University of Northern Colorado (UNC). Prior to UNC she was University Librarian at Santa Clara University from 2012-2020. In her time at Santa Clara she led the creation of the Library's first strategic plan, multiple space renovations, and a library-wide reorganization. In 2017 SCU Library was selected as the winner of the ACRL Excellence in Academic Libraries Award in the University Library category. Previously she worked at Oregon State University, George Washington University, and the State University of New York College at Brockport. She holds a BS in Journalism and MLS from Syracuse University, and an MA in Education and Human Development from George Washington University. She is the founder of the Colloquium on Libraries & Service Learning and edited the book "Service Learning, Information Literacy, and Libraries" which won the ACRL Instruction Section Rockman Award in 2018.
Contributors
See contributors page for more information about those who contribute to the blog. We invite you to enter into the conversation! If you are interested in guest authoring, please contact the moderator or any of the editorial team members listed here. And feel free to comment on posts as well as communicating with us via Twitter (@sllibrarian).
Disclaimer:  Views included are authors' own, and do not necessarily represent the views of their employers.